Apartment for rent in Bat Yam n° 266
Content
500 meters walk from the sea, a new apartment for rent in Bat Yam, on the 14th floor of a very luxurious building (Light House building).
Tidar construction with architect Pivko.
Its surface is 80 m2 + 14 m2 of balcony.
The apartment has 2 bathrooms: One with bathtub and the other with a shower.
Yohanan Hasanglaire 4 in Bat Yam.
Parking + cellar.
The tram is in front of the building.
Bat Yam will soon become Tel Aviv... enjoy it before the prices climb!
The apartment will be available on 26/10/2023.
To coordinate a viewing of the property and other details
0544816703
-Sophie
0586274428
-Jérémy
Price:
7800 ₪Vaad :
1040 ₪/month
featured
Location: Israel, Bat Yam
Interested in this property ?
Overview
Badge:

Hot

Purpose:

Apartment

Rooms:

3

Rent price:

₪7800

Area:

80ft2

Country:

Israel
Location
32.015457
34.750528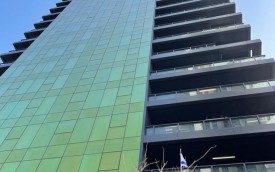 Featured
View
2000
WALKING
km
en
15
100%
400px
https://www.ba-hit.com/wp-content/themes/nexos/assets/img/markers/empty.png
20
54.5
Distance
Address
Walking time
min
Details
Overview
Address:

Bat Yam Israel

Badge:

Hot

Purpose:

Apartment

Rooms:

3

Rent price:

₪7800

Area:

80ft2

Country:

Israel